FIRST NATIONS COMMUNITIES URGED TO IGNORE THE "JIBBER" AND SEE A "JABBER" ABOUT COVID VACCINES
Western Queensland's Aboriginal and Torres Strait Islander communities are being encouraged to speak with their local clinicians about the COVID vaccine, amid concerning reports of vaccine hesitancy among vulnerable populations in rural and remote Queensland.
WQPHN is currently spearheading a new campaign to raise awareness about the importance of getting accurate information about vaccines from reliable sources.
The WQPHN's "Jibber Jabber" campaign encourages people to ignore the "Jibber", defined as foolish or worthless talk, and instead talk to a "Jabber", being someone who administers a COVID vaccine jab.
The Nukal Murra Alliance, a collaboration between key Aboriginal and Torres Strait Islander health services in Western Queensland and the WQPHN, is integral in providing the on-the-ground information that informed the campaign.
View the media release here
Resources 2021
Download our digital resources for your social posts
Zoom Background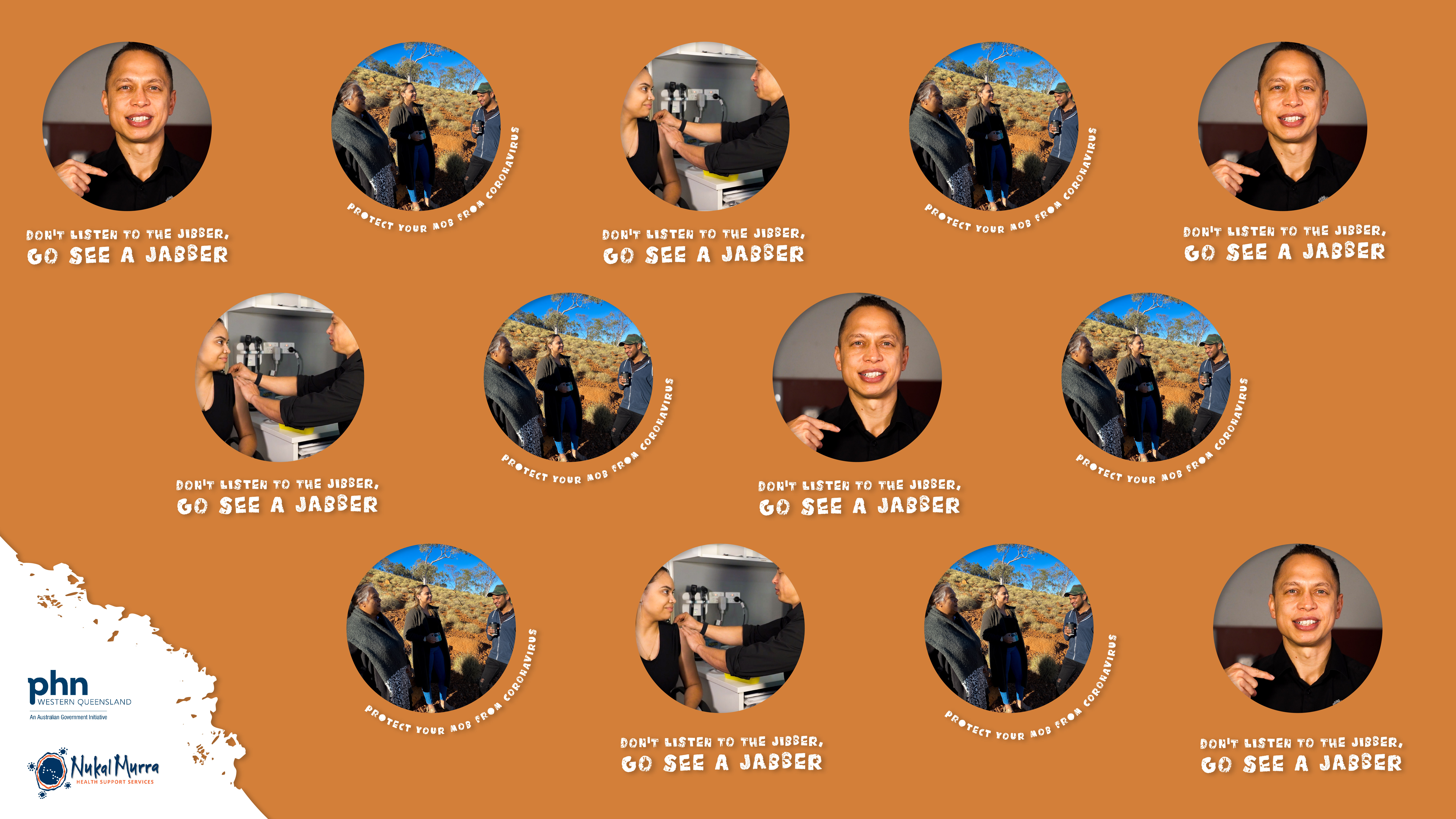 SIgnature banner

Web banner

Please contact comms@wqphn.com.au for all enquiries into third-party use of the material provided on this page.
Credits
The WQPHN website was developed and is maintained by Michael R.G. Hughes of Extremely Geeky.
Disclaimer
While the Australian Government Department of Health has contributed to the funding of this website, the information on this website does not necessarily reflect the views of the Australian Government and is not advice that is provided, or information that is endorsed, by the Australian Government. The Australian Government is not responsible in negligence or otherwise for any injury, loss or damage however arising from the use of or the reliance on the information provided on this website.