Welcome to the 2020-2021 Annual Report Highlights. The full Annual report can be viewed here.
Who Are We? 
Our region covers 956,438km2 (55% of total land area) of rural, remote and very remote areas for 63,000 people in Western Queensland.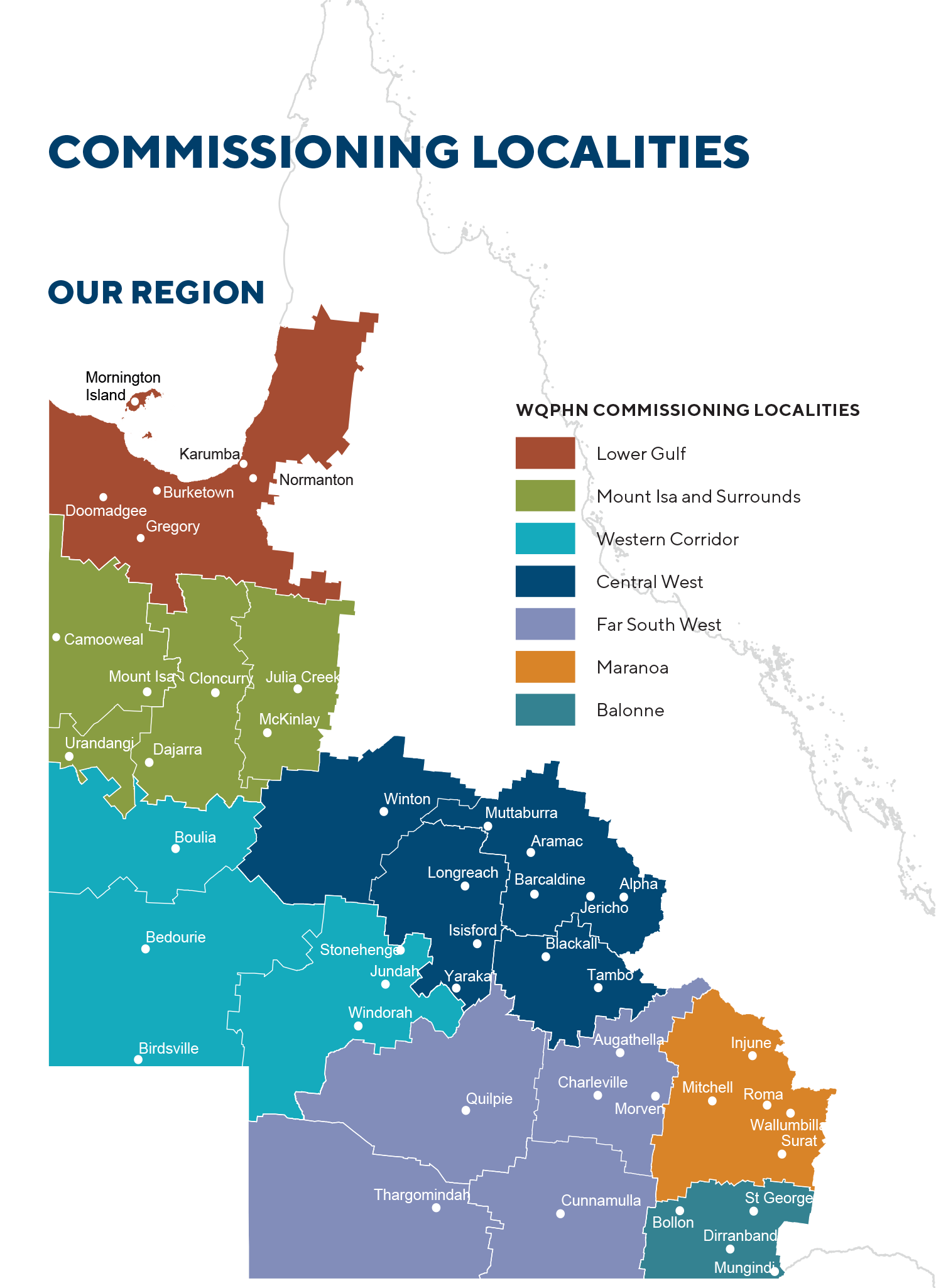 Vision
Western Queenslanders experiencing better health
Purpose
To empower our people through partnerships in an integrated primary health care system
that delivers better health outcomes for the people of Western Queensland
Values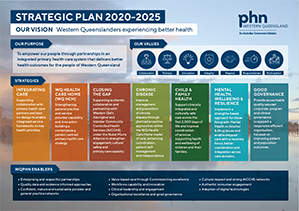 ---
Chair's Report
Chair's Report
The 2020-21 period has proven to be another busy year, and I am pleased to provide this report as
Chair of the Western Queensland Primary Health Network (WQPHN).
In 2020 WQPHN farewelled Stuart Gordon and welcomed Sandy Gillies into the role of Chief Executive Officer. Sandy is a Gunggari woman, an experienced health executive and clinician who brings a range of high level skills, knowledge, and experience to the role. Born and bred in Western Queensland, Sandy possesses first-hand knowledge of the unique health challenges faced in the region and is well positioned to lead the WQPHN.
read more 

During the year, the organisation updated the Western Queensland Mental Health, Suicide Prevention and Alcohol and Other Drugs (MHSPAOD) Regional Plan. Mental Health and wellbeing continues to be a priority for the region, and I would like to thank members of the Western Queensland MHSPAOD Consortia who worked closely with WQPHN to develop a plan for the next five years to shape the future of mental health and wellbeing services in Western Queensland, and support a more effective, person-centered health service system.
The COVID-19 pandemic continued to be an ongoing priority for the WQPHN in 2020-21, with a strong focus on continued collaboration with our health partners to support system preparedness, PPE supply chains, and co-ordinated COVID-19 screening activity. More recently WQPHN have played an integral role in leading the vaccine roll-out across Western Queensland. This will continue to be a priority area for some time, however I am pleased to report strong initial uptake and high coverage across key population groups, including aged care facilities.
WQPHN is fully engaged in Health Equity discussions with the Queensland Department of Health and the Aboriginal and Torres Strait Islander community-controlled health sector. The Health Equity legislation represents a strategic policy shift to improve health outcomes for Aboriginal and Torres Strait Islander People, with a strong focus on co-design and collaboration. The WQPHN looks forward to working with our partners to continue our support for better system integration, innovation and long-term improved health outcomes for our Aboriginal and Torres Strait Islander communities.
Whilst it has been a challenge to bring together our Clinical Council and Consumer Advisory Council members in person, their continued engagement (via virtual meetings) is sincerely valued and a critical element to maintaining strong partnerships, and a sense of connection across a large and diverse geographical area.
I'd like to thank my fellow Board members for their contribution over the past 12 months. This year we farewelled Dr. Anna Cunningham from the board. On behalf of the Board I wish Anna all the best with her future endeavours. I would also like to acknowledge the hard work of our Executive Management Team and staff, our commissioned service providers and our key stakeholders, who continue to work with us to improve access to primary healthcare across Western Queensland.
---
CEO's Report
The COVID-19 pandemic disruption continued throughout the 2020-21 year, with strong collective leadership required across all levels of the health and community services sectors. During these times we have been encouraged by the way our communities, partners and WQPHN staff responded to the challenges we all faced together.
Firstly it is important to acknowledge the contribution and responsiveness of the three Hospital and Health Services, Residential Aged Care Facilities (RACF), Nukal Murra Alliance members, General Practice Networks and allied health service providers in the COVID-19 response; the Western Queensland communities are fortunate to have the support of a strong network of health professionals who, despite the challenges, ensured that doors remained opened, services continued and the health and safety needs of our people were met.
read more 

WQPHN also underwent a large organisational leadership change with the departure of our long-standing CEO Stuart Gordon, who returned home to Bourke in 2020 to be closer to his family and community. It was a privilege and honour to work alongside Stuart for the past four years and his ongoing support in my transition into the role of CEO is acknowledged and greatly appreciated. The strategic foundations developed by Stuart and the WQPHN Board of Directors provides a solid direction of travel for the organisation in our journey towards Western Queenslanders experiencing better health.
The COVID-19 Vaccination Rollout has been a clear demonstration of the incredible relationships that WQPHN has built with communities and organisations over the past six years. Partnerships between the three Hospital and Health Services, Royal Flying Doctors Service and WQPHN resulted in RACF residents all receiving their COVID-19 vaccinations in the Phase 1a timeframes. Vaccination rates across our region are increasing and specific regions are reporting vaccination rates higher than the state and national averages.
The flood and drought program concluded at the end of 2020 with a very successful Recovery an Resilience Summit held in Julia Creek. This was well attended by government representatives, service providers and community members, and WQPHN was honoured to bring stakeholders together during this joint collaboration to assist communities in recovering from the devastating monsoonal event of 2019.
The demand for mental health services spiked in 2020 and low intensity type services increased, reflecting an encouraging sign that community awareness of mental health issues is rising. The addition of the new headspace Roma is timely and the involvement of the local youth in the co-design of the site presents exciting times ahead for the Maranoa region.
Across Western Queensland we have seen an increase in telehealth services and the feedback from communities was very positive, which in turn has created an opportunity for our service providers to provide a mix of face-to-face and telehealth options for their clients.
Finally, I would like to acknowledge and sincerely thank the WQPHN Executive Team and staff for their hard work, dedication and ongoing commitment to our shared goal of building a primary health care system that delivers better health outcomes for the people of Western Queensland.
---
Board of Directors
Western Queensland PHN has a skills-based Board of Directors and is a clear demonstration of the commitment of private General Practices and Indigenous partners to work with the Hospital and Health Services to overcome entrenched barriers to patient-centred care.
The Board is led by our Chair, Dallas Leon, who joined in December 2018 after Sheilagh Cronin's retirement.  Other Board Directors have a range of skills and expertise that enhance the ability of the Board to govern the company. All Directors have a strong understanding of primary care, particularly in rural and remote Australia. 
Read more
---
Members
During 2020-2021, the Western Queensland Primary Care Collaborative Ltd had 15 Members.
No new membership applications were received during the year. All Members contribute to WQPHN's overall purpose to support a comprehensive and integrated primary health system that delivers better health outcomes for the people of Western Queensland.
Founding Members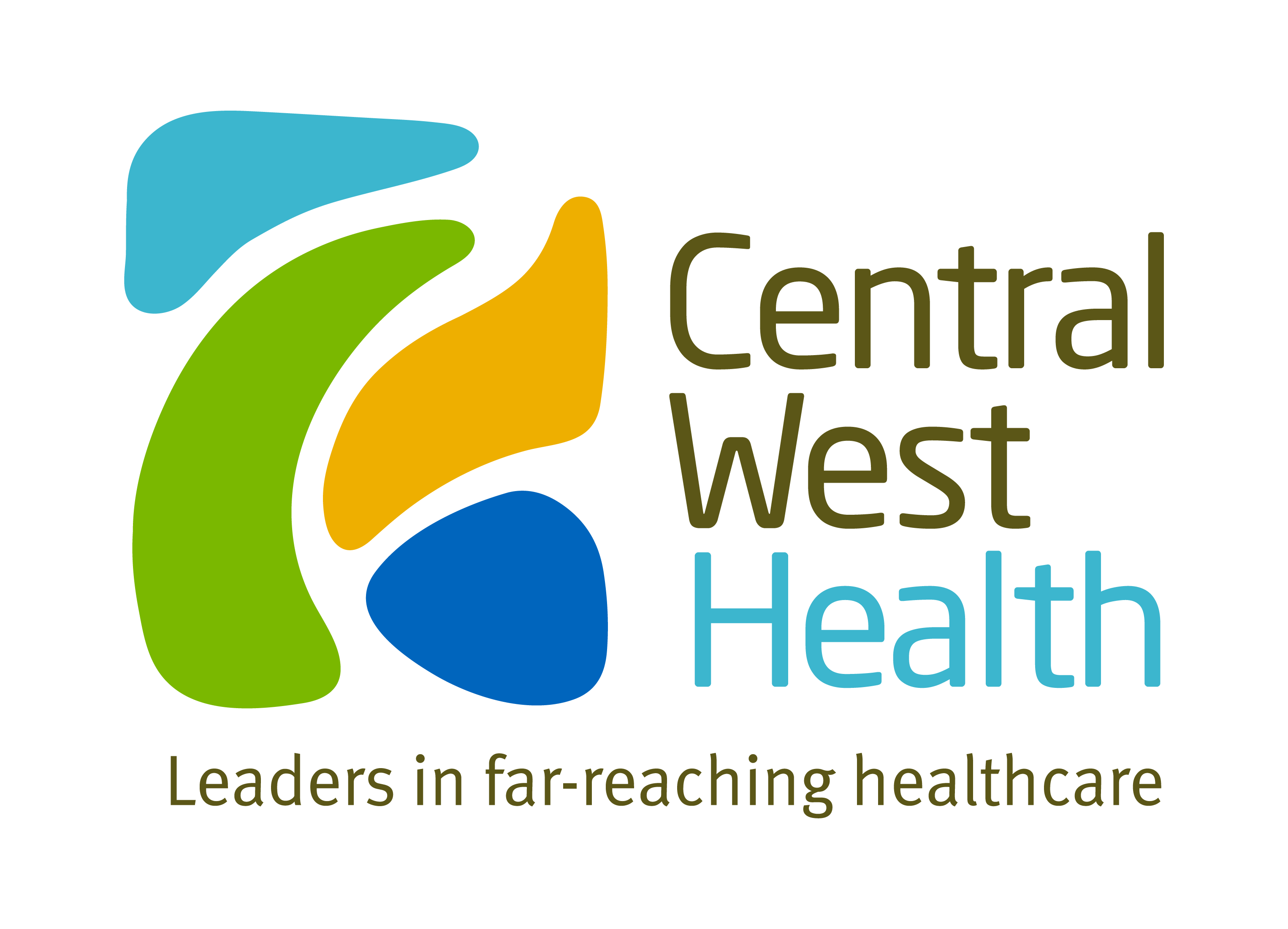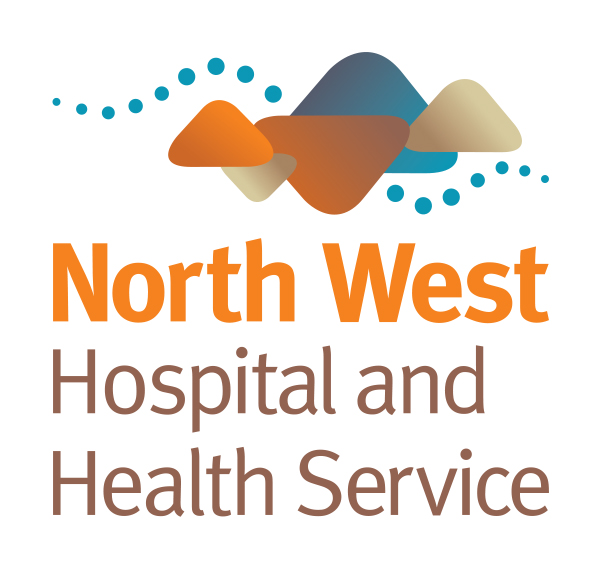 Admitted Members
Reconciliation Action Plan (RAP)
The Reconciliation Working Group (RWG) was established in 2019 and continues to drive the development of the WQPHN Reconciliation Action Plan (RAP), working closely with Reconciliation Australia. The RWG is co-chaired by our First Nations leaders, Board Chair, Dallas Leon, and CEO, Sandy Gillies, and includes strong representation from the Nukal Murra Alliance CEOs, Board Directors, and a cross section of staff from business units within the WQPHN.
Working group meetings were held during 2020-21 to review the feedback provided by Reconciliation Australia, update the Plan, and to select a piece of art that would proudly reflect the unique cultural heritage of our region and our hopes for its future.
Healing Country
– Yapatjarra Muu

WQPHN undertook an extensive search to find artwork created by local Traditional Owners which would reflect the unique nature of our Western Queensland Aboriginal and Torres Strait Islander heritage.
Brooke Sutton's soulful piece called "Healing Country" was selected by the Working Group to be proudly featured in the WQPHN Reconciliation Action Plan.
Brooke is a contemporary artist from the Kalkadoon Traditional Owner group and this painting is her personal interpretation of "Yapatjarra Muu" which means in the Kalkadoon language "Healing Country".
The WQPHN Reconciliation Plan is now in its second draft and is under review with Reconciliation Australia.
View the RAP
Share this page:
Credits
The WQPHN website was developed and is maintained by Michael R.G. Hughes of Extremely Geeky.
Disclaimer
While the Australian Government Department of Health has contributed to the funding of this website, the information on this website does not necessarily reflect the views of the Australian Government and is not advice that is provided, or information that is endorsed, by the Australian Government. The Australian Government is not responsible in negligence or otherwise for any injury, loss or damage however arising from the use of or the reliance on the information provided on this website.