Diabetes Collaborative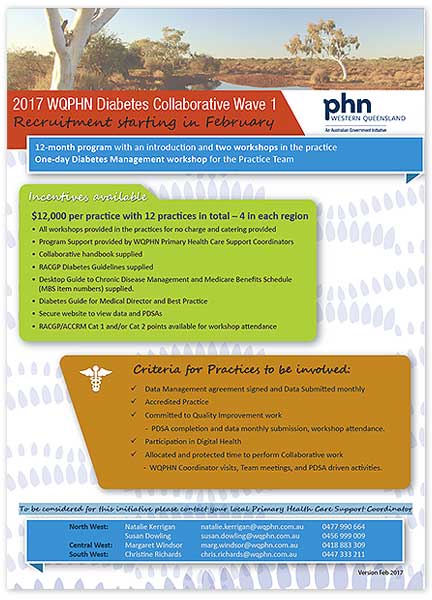 Recruitment has now closed for this year. Watch this space for the next program!
2017 WQPHN Diabetes Collaborative Wave 1
12-month program with an introduction and two workshops in the practice
One-day Diabetes Management workshop for the Practice Team
$12,000 per practice with 12 practices in total – 4 in each region
All workshops provided in the practices for no charge and catering provided
Program Support provided by WQPHN Primary Health Care Support Coordinators
Collaborative handbook supplied
RACGP Diabetes Guidelines supplied
Desktop Guide to Chronic Disease Management and Medicare Benefits Schedule
(MBS item numbers) supplied.
Diabetes Guide for Medical Director and Best Practice
Secure website to view data and PDSAs
RACGP/ACCRM Cat 1 and/or Cat 2 points available for workshop attendance

To be considered for future initiatives please contact your local Primary Health Care Support Coordinator
Disclaimer
While the Australian Government Department of Health has contributed to the funding of this website, the information on this website does not necessarily reflect the views of the Australian Government and is not advice that is provided, or information that is endorsed, by the Australian Government. The Australian Government is not responsible in negligence or otherwise for any injury, loss or damage however arising from the use of or the reliance on the information provided on this website.