On this Page:
Last Updated 22 December 2020
To keep abreast of updates to Public Health Directions in line with Queensland's Roadmap to Easing Restrictions, links to several Directions are provided below.
            - Operators of shared Disability Accommodation Services Direction
            - Quarantine for Overseas Arrivals (Self-quarantine for persons Arriving from Overseas Directions)
            - Persons Diagnosed with COVID (Self-isolation for Diagnosed Cases of COVID-19 Direction)
On 19 September the Australian Government announced the extension of its national COVID-19 emergency health response for a further six months to 31 March 2021 at a cost of more than $2 billion. This includes an extension to the suite of Medicare subsidised telehealth services, pathology services and GP led respiratory clinics. See the Fact Sheet for more information on COVID-19 Temporary MBS Telehealth Services.
Current status
Queensland has 1,235 confirmed cases of COVID-19
Symptoms and Testing
Symptoms can range from mild illness to pneumonia. Some people will recover easily, and others may get very sick very quickly. Common symptoms of COVID-19 may include:
fever
a cough
sore throat
fatigue
shortness of breath.
Below is a comparison between the COVID-19 and cold or flu from the Australian Government
If you have a confirmed case, you need to isolate yourself to prevent it spreading to other people. 
You can also use the healthdirect Symptom Checker tool to guide you to the appropriate healthcare action, updated with information on novel coronavirus. It is also available on the healthdirect app.

Prevention
The recent rise in community transmission of COVID-19 in Australia means some states and territories now recommend or require the use of masks. It's important to stay up to date with the advice in your local area.  Cloth masks are a washable covering and further advice on how to clean them is below. If your cloth mask becomes damp you must remove it, put on a fresh one and put the used one in a plastic bag for washing at the end of the day.  Find out more in the fact sheet about the use of masks.
Where can I get tested?
For a list of ALL fever and respiratory clinics in Queensland, click here.  This includes the five GP-led respiratory clinics in Western Queensland.
For a list of fever and respiratory clinics in Queensland click here
To find a clinic in your region via an interactive map click here
Information for All Clinicians
For Queensland Health-endorsed management pathways, go to WQ HealthPathways.
View resources for health professionals, including aged care providers, pathology providers and healthcare managers from Department of Health. 
About Coronavirus (COVID-19)
Coronaviruses are a large family of viruses that can make humans and animals sick. They cause illnesses that can range from the common cold to more severe disease
Coronavirus was first reported in December 2019 in Wuhan City in China.
Other coronaviruses include Middle East Respiratory Syndrome (MERS) and Severe Acute Respiratory Syndrome (SARS).
How it spreads
There is evidence that the virus spreads from person-to-person.
The virus is most likely spread through:
close contact with an infectious person
contact with droplets from an infected person's cough or sneeze
touching objects or surfaces (like doorknobs or tables) that have cough or sneeze droplets from an infected person, and then touching the mouth or face
Resources
The Australian Government maintains a 
collection of resources
 for the general public including vulnerable groups such as the elderly, those with chronic conditions and Indigenous communities, health professionals and industry.
Advice for people most at risk
 -  
older people
 -  
people in aged are facilities 
 -  
travellers
Official Australian COVID-19 app & WhatsApp channel
The Australian Government has released an Offical app with the information you need to know about coronavirus (COVID-19).
Download the "Coronavirus Australia" government app in the Apple App Store or Google Play.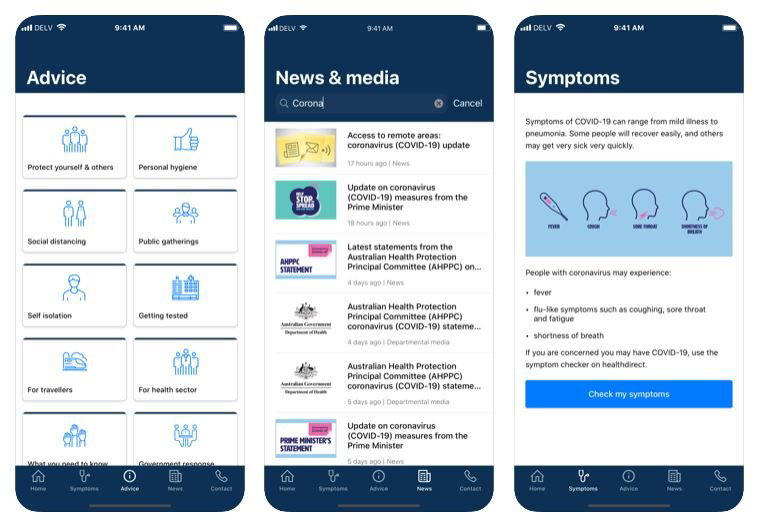 Official WhatsApp channel
The Australian Government has started an official WhatsApp channel with the information you need to know about coronavirus (COVID-19).
Message +61 400 253 787 or go to aus.gov.au/whatsapp in your web browser to get coronavirus information you can trust from the official Australian Government chatbot.
WhatsApp is available from the Apple Store or Google Play.
Help and assistance for Consumers
Healthdirect Australia has worked with the Department of Health to establish the Coronavirus Health Information Line on 1800 020 080 for non-clinical information about the COVID-19 to the public.
The original healthdirect helpline on 1800 022 222 is to speak to a registered nurse who will triage callers with symptoms. 
Communications sent by WQPHN:
Additional Help and Assistance
Credits
The WQPHN website was developed and is maintained by Michael R.G. Hughes of Extremely Geeky.
Disclaimer
While the Australian Government Department of Health has contributed to the funding of this website, the information on this website does not necessarily reflect the views of the Australian Government and is not advice that is provided, or information that is endorsed, by the Australian Government. The Australian Government is not responsible in negligence or otherwise for any injury, loss or damage however arising from the use of or the reliance on the information provided on this website.