On this Page:
Last Updated 11 August 2020
The Department of Health is asking health professionals across the sector to watch out for signs and symptoms of novel coronavirus (COVID-19) infection in patients who may have travelled to areas affected by an emerging outbreak.
Current status
Queensland has 1089 confirmed cases of COVID-19
For more information on these cases, please visit the Department of Health Health Alerts page.
On Tuesday 30 June 2020, Premier Annastacia Palaszczuk announced Stage 3 Easing of Restrictions, including border changes - Roadmap to Easing Restrictions.

The Prime Minister has announced the activation of the Australian Health Sector Emergency Response Plan for COVID-19. View the document here.
COVID-19 WHS Information - Safe Work Australia including ten National COVID-19 safe workplace principles
Additional advice 
On 30 April 2020, the Director General of the World Health Organisation (WHO) declared that the outbreak of COVID-19 continues to constitute a Public Health Emergency of international concern (PHEIC). Click the link for updated grobal information.
The Australian Government has unveiled a comprehensive health package to protect Australians, including vulnerable groups such as the elderly, those with chronic conditions and Indigenous communities, from COVID-19. The package includes a collection of resources for the general public, health professionals and industry.
All Clinicians
For Queensland Health-endorsed management pathways, go to WQ HealthPathways.
View resources for health professionals, including aged care providers, pathology providers and healthcare managers from Department of Health. 
About Coronavirus (COVID-19)
Coronaviruses are a large family of viruses that can make humans and animals sick. They cause illnesses that can range from the common cold to more severe disease
Coronavirus was first reported in December 2019 in Wuhan City in China.
Other coronaviruses include Middle East Respiratory Syndrome (MERS) and Severe Acute Respiratory Syndrome (SARS).
Advice for people most at risk
Symptoms
Symptoms can range from mild illness to pneumonia. Some people will recover easily, and others may get very sick very quickly. Common symptoms of COVID-19 may include:
fever
a cough
sore throat
fatigue
shortness of breath.
Below is a comparison between the COVID-19 and cold or flu from the World Health Organisation.
You can also use the healthdirect Symptom Checker tool to guide you to the appropriate healthcare action, updated with information on novel coronavirus. It is also available on the healthdirect app.

How it spreads
There is evidence that the virus spreads from person-to-person.
The virus is most likely spread through:
close contact with an infectious person
contact with droplets from an infected person's cough or sneeze
touching objects or surfaces (like doorknobs or tables) that have cough or sneeze droplets from an infected person, and then touching the mouth or face
Prevention
Surgical masks in the community are only helpful in preventing people who have COVID-19 from spreading it to others. If you are well, you do not need to wear a surgical mask as there is little evidence supporting the widespread use of surgical masks in healthy people to prevent transmission in public.
Find out more in the fact sheet about the use of surgical masks.
Protect others and stop the spread
We can all help slow the spread of COVID-19 in Australia.
To protect others you must:
Read more about protective measures against coronavirus on the World Health Organisation website.
COVIDSafe app
The COVIDSafe app speeds up contacting people exposed to coronavirus (COVID-19). For more information visit the Department of Health website.
If you have a confirmed case, you need to isolate yourself to prevent it spreading to other people. 
Help and assistance for Consumers
Healthdirect Australia has worked with the Department of Health to establish the Coronavirus Health Information Line on 1800 020 080 for non-clinical information about the COVID-19 to the public.
The original healthdirect helpline on 1800 022 222 is to speak to a registered nurse who will triage callers with symptoms. 
Due to unprecedented high number of callers to both lines, people can also find answers to common questions at the healthdirect website coronavirus hub.
Official Australian COVID-19 app & WhatsApp channel
Official app
The Australian Government has released an official app with the information you need to know about coronavirus (COVID-19).
Download the "Coronavirus Australia" government app in the Apple App Store or Google Play.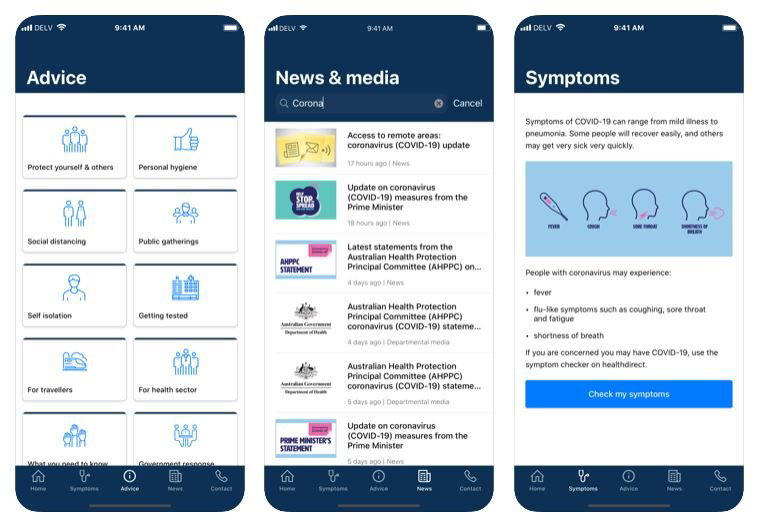 Official WhatsApp channel
The Australian Government has started an official WhatsApp channel with the information you need to know about coronavirus (COVID-19).
Message +61 400 253 787 or go to aus.gov.au/whatsapp in your web browser to get coronavirus information you can trust from the official Australian Government chatbot.
WhatsApp is available from the Apple Store or Google Play.
---
Click below for latest communications sent by WQPHN:
Additional Help and Assistance
Disclaimer
While the Australian Government Department of Health has contributed to the funding of this website, the information on this website does not necessarily reflect the views of the Australian Government and is not advice that is provided, or information that is endorsed, by the Australian Government. The Australian Government is not responsible in negligence or otherwise for any injury, loss or damage however arising from the use of or the reliance on the information provided on this website.